Issue 2: Roll-and-write games
In this issue: I discuss four of my favorite roll-and-write games, and I give some advice to professional soccer players on games to play. (I doubt they'll listen, but you never know.)
Hello! Welcome to the second issue of Don't Eat the Meeples, a companion to my Instagram profile and board game coverage elsewhere.
This week, I'll be talking about roll-and-write games, some music I've been listening to lately, and what I've been playing at home. We'll also take a quick tour through some interesting reads for the week.
---
News & Links
BGG.CON 2020 has been cancelled, both wisely and unsurprisingly. BoardGameGeek will put on another virtual gaming convention, which is great. I didn't participate in the virtual convention earlier this year, but maybe I will in this one, slated for November. Interestingly, BoardGameGeek also purchased TableTop.Events, a platform for gaming conventions that adapted really well for virtual gaming. This is largely a press release read, but it's still worth a look.

The fine folks behind Our Family Plays Games appeared on Good Morning America to talk games to a wide audience. It's a great interview and well worth a watch!

This BGG geeklist, "Chinese knockoffs with 'original' cover art" is absolute outstanding and worth the few minutes it'll take you to take a look. It came to my attention after Patrick Leder of Leder Games shared the box art to a knockoff copy of Root, and it's just amazing. The published art by Kyle Ferrin is, of course, so much better than this, but at the same time, there's something just amazing happening here.
One of my favorite families of games is easily the 'roll-and-write' game, which I would argue encompasses far more than just games with dice. But rather than try to figure out a name for a combined genre, or to put them all together (which is what I'm doing on Instagram without any compunction, so don't take that as an issue of principle, just convenience), I thought I'd throw out some of my favorite games in each group.
Roll-and-write games
Ganz Schön Clever (and Doppelt So Clever)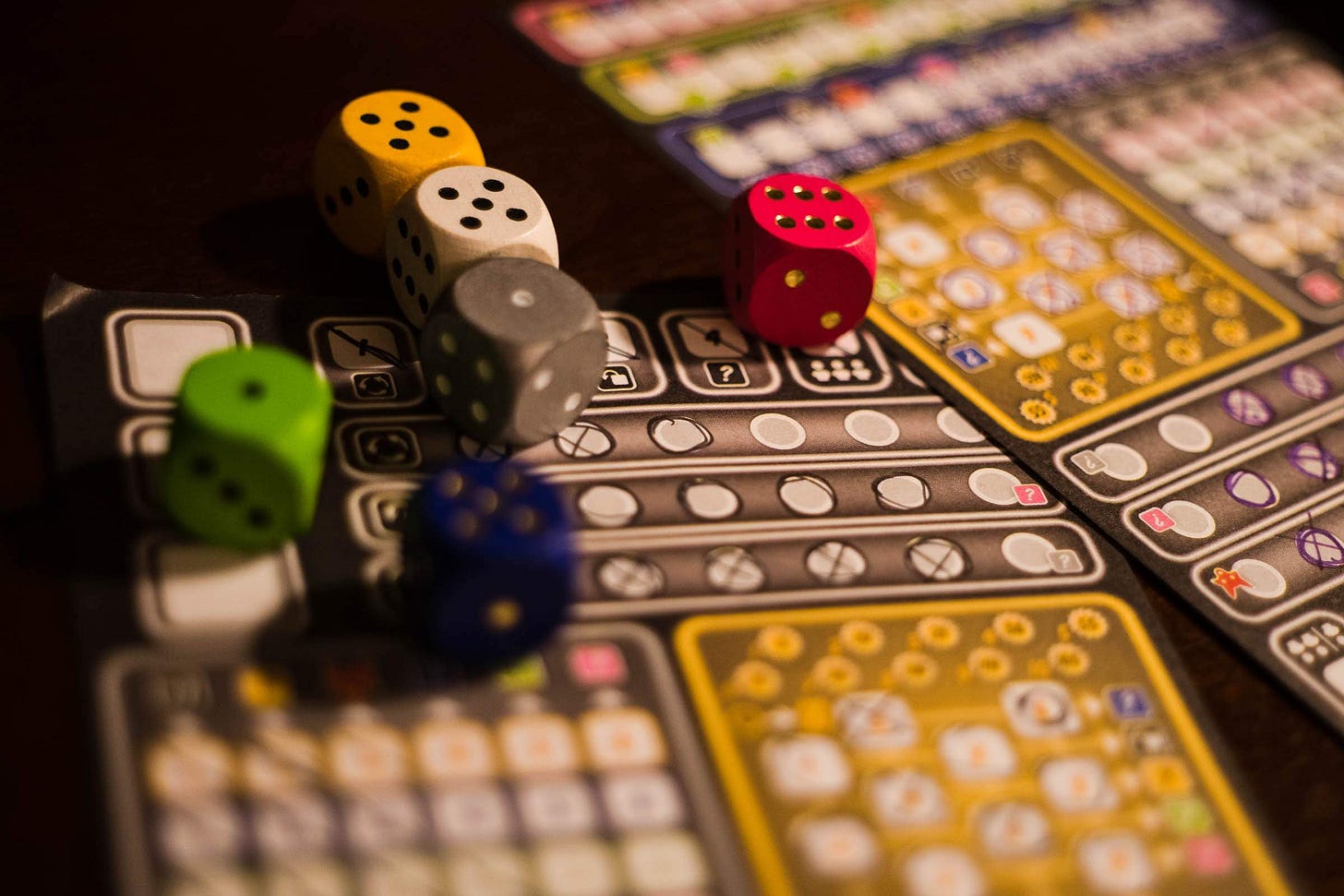 Released in the U.S. as That's Pretty Clever and Twice As Clever, these two games from designer Wolfgang Warsch are wonderful examples of the genre. In these, you'll roll dice, select one to mark on your sheet, then set aside all the dice below the number you picked and rolling the remaining dice. You'll select a maximum of three dice to mark on your sheet each round, but each track features a different set of benefits, and some will provide you excellent opportunities to chain your selections together. It's a hard game to describe, but once you start playing, it will all click together.
Both games are hard to optimize, and that's the puzzle here. They also both have good app implementations, and even though the user interface could use some major improvement, it's such a quick way to play solo. I've put in hundreds of games across the two apps, and I'm only starting to feel like I can reliably get a good score.
Here's something I said on my Instagram post about Ganz Schön Clever this week:
"It's a bit infuriating, as I always feel like I could have done better, and I feel like I bear responsibility for my poor performance. For a game that's all about rolling and picking three of six dice, that's a huge accomplishment."
Brikks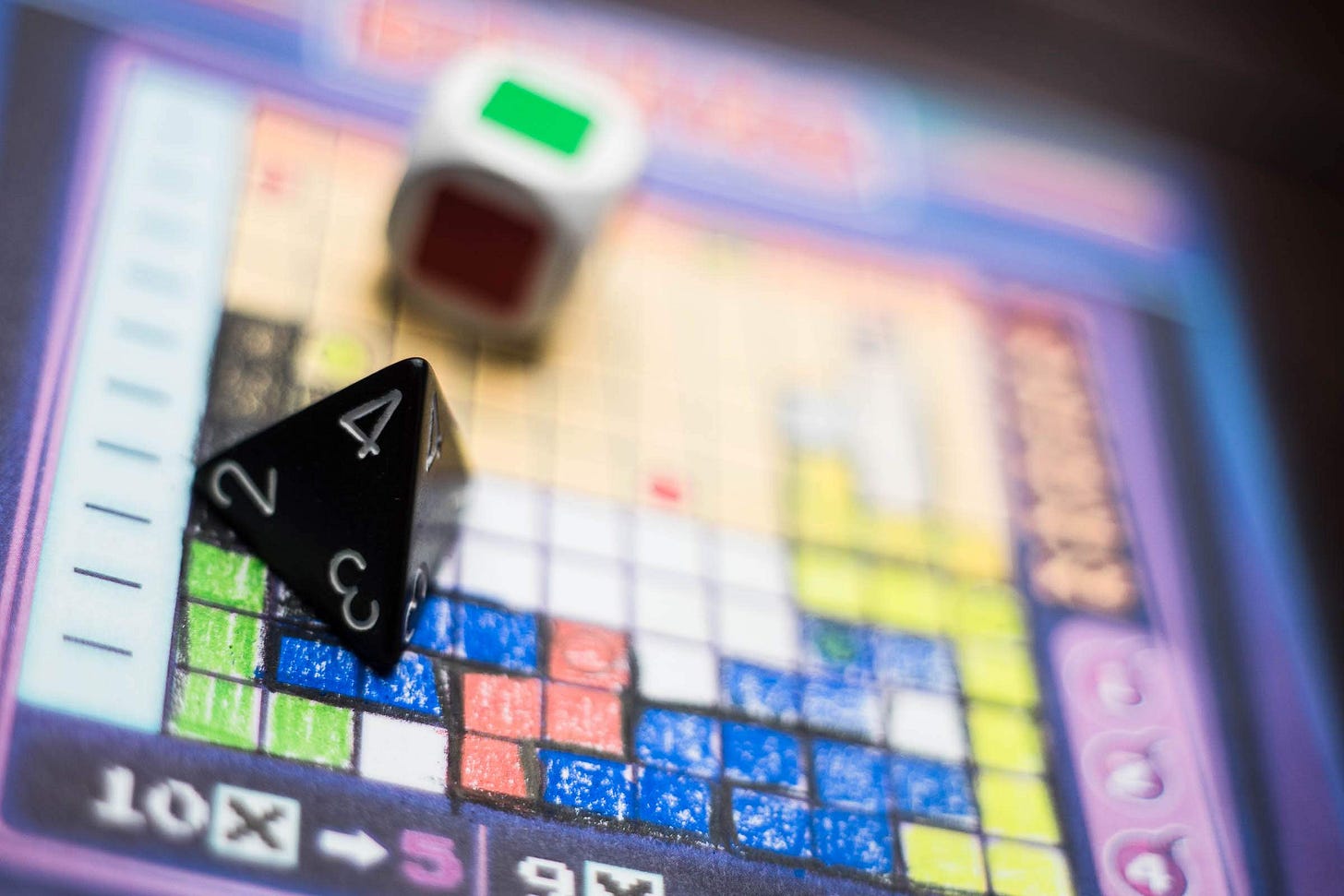 Another Wolfgang Warsch title, Brikks is a really cool approximation of Tetris as a roll-and-write game. While nothing can replicate the feeling of panic as blocks fall faster and faster, this is my favorite physical rendition of the classic video game.
Each round, a starting player rolls two dice (potentially re-rolling, too), and those translate to the piece and its rotation for all players. If you'd like to rotate your piece, you'll have to spend energy (almost analogous to the piece falling, which is neat!) You'll then draw it on your board, with some bonuses available for placing pieces of specific colors in indicated spaces.
This game features exactly what I love about roll-and-write games. It's quick, it's smart, and it provides an experience you couldn't really get otherwise. Sure, you could have a supply of pieces that you physically place on your board, but you end up with a giant box of cardboard for a relatively light game.
Noch Mal!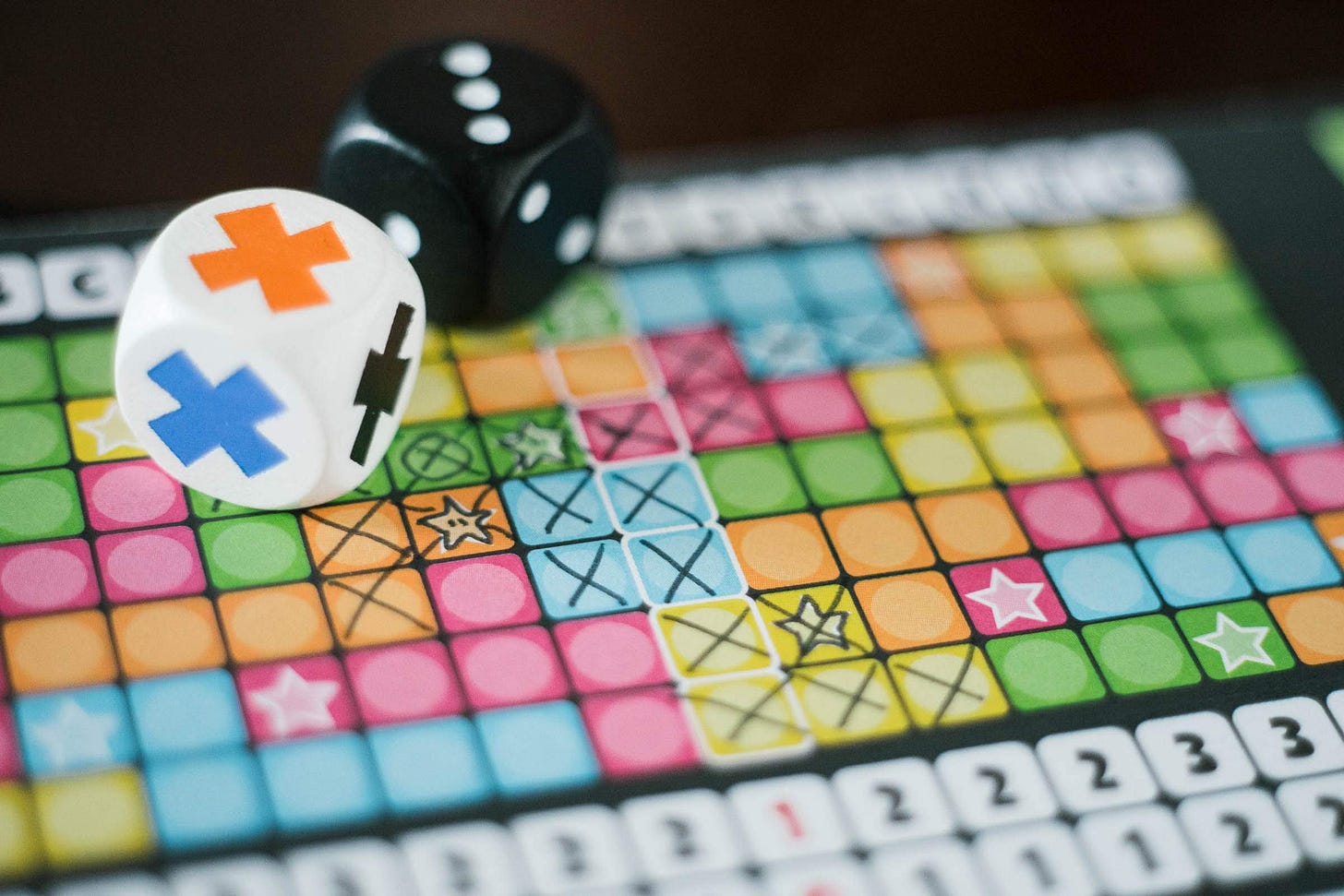 Designed by Inka and Markus Brand, whom you may know from Village or the Exit series, among many others, Noch mal! (or Encore!, whichever you prefer) features some lovely custom dice. On your turn, you'll roll all of them, picking one number die and one color die from the result. You'll then mark off that many squares of that color (with both potentially having wild options, which will reduce your point haul at the end of the game upon use), so long as they're either connected to the center or to other squares you've filled. You can also use a wild question mark or black X (or both!), both of which will reduce your final point haul.
It's a compelling game, but it's much harder than I would have expected from the looks of things. When I play, I feel like I'm trapped underneath the weight of randomness, unable to mitigate things in such a way that I can score meaningful points. I suspect that's a lack of experience for me in this one, but it also underscores that this game won't reward you until you deserve it. It's a nice thing, and while the play itself isn't difficult, this game does sure like to punish my optimistic play. ("I'm sure I can finish this one on another turn — it can't be that hard, can it?")
Railroad Ink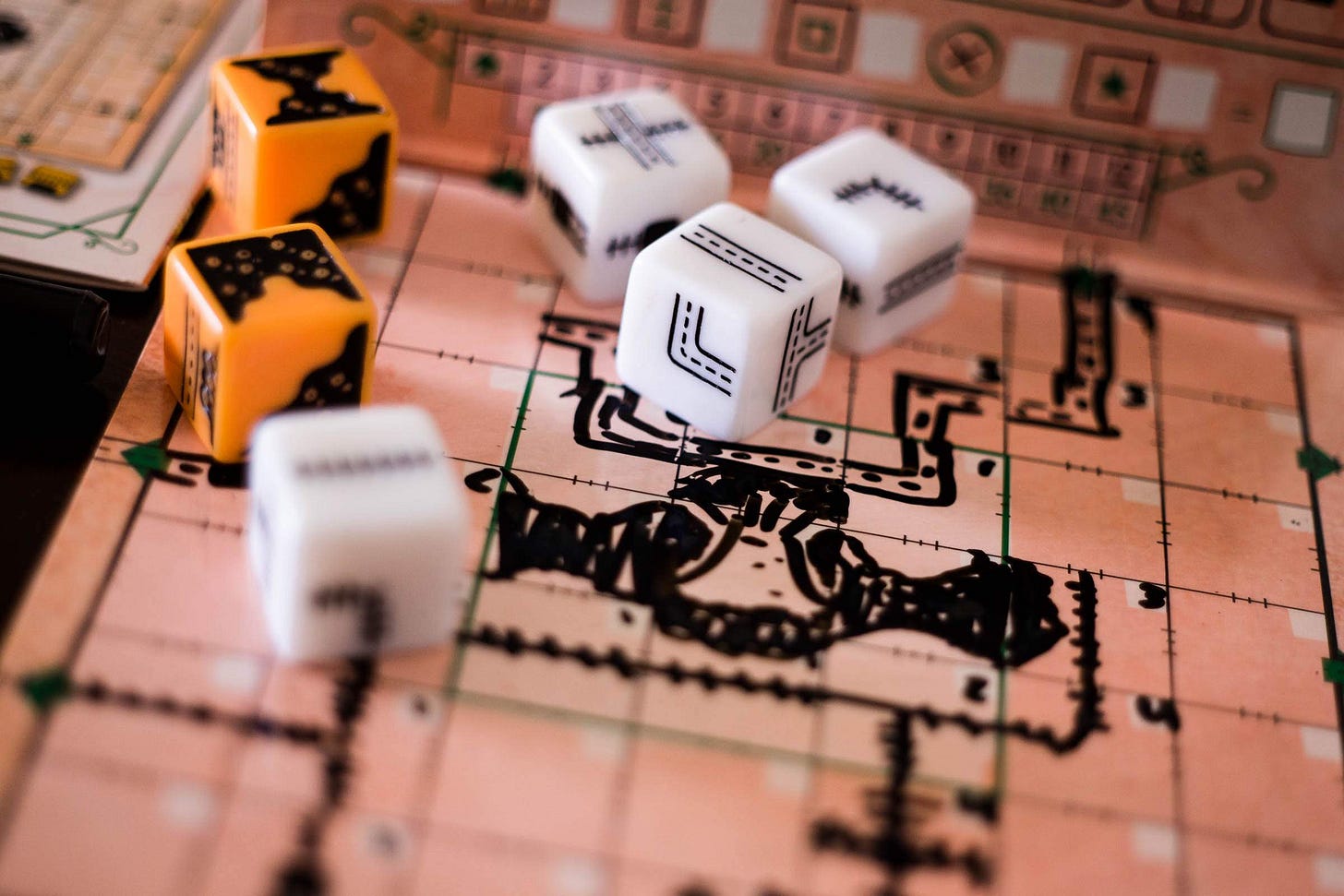 Railroad Ink is a simple game of network building, where those dice represent routes that will be drawn on your map. This is perhaps my favorite roll-and-write game, and it's one I've put far more time into than I realized — and that's largely from taking it on a vacation or two to visit family, where I've played it solo in my downtime. It works really well in both solitaire and multiplayer settings, and if multiple households have a copy of it, it's super easy to play remotely.
There really is a lot of fun packed in the small box, and I'm very excited for the new editions of the game (with all-new expansions!) that ran on Kickstarter recently.
---
Off-topic-ish: Games for pro athletes in a bubble
As you may know, I'm also the managing editor of a site about my local soccer team, Real Salt Lake, who play in Major League Soccer. The league's on its way back — they're calling the tournament "MLS is Back," which is outstandingly bad — and I saw a photo of a team's 'activity room,' for lack of a better term. The collection of games there was, in a word, lacking. I saw Battleship, Jenga and Cards Against Humanity, and while I've played some fun games of digital Battleship over the last few weeks with a coworker (they're so much quicker digital, and I don't think I could go back to a physical version ever), I do think they could have made some considerably better decisions in what to offer players. Cards Against Humanity has its own set of problems inside and outside of the game, and Jenga is just a bit tired at this point. I'll be putting together some recommendations for the league, and I hope they listen. Briefly, three games they should have included instead:
Instead of Jenga, Tokyo Highway. It's a brilliant dexterity game, has just a bit of strategy, and looks so cool on the table. If you knock everything down, its on you, not on the game. That's appealing.

Instead of Cards Against Humanity, Monikers. It's outrageous and weird, and it's so inherently social. It also doesn't dabble in racism, sexism and homophobia. Alternatively, I'd recommend Spyfall. I'd pay to see pro athletes trying to pretend they know where they are.

Instead of Battleship, Onitama. It's a brilliantly quick two-player abstract, and I think it would be a much better choice than the overly long Battleship.
---
Jazz in 2020
A friend of mine (incidentally, also the person I know who loves Root more than anyone else) posted a list of some of his favorite jazz albums of 2020, which I'm going to share here without comment, but only because I haven't listened yet. The link goes to a tweet thread, which you should read, because he's very funny.
Jeff Parker, Suite for Max Brown

Jeremy Cunningham, The Weather Up There

Pat Metheny, From This Place

Walter Smith, Matthew Stevens, Micah Thomas, Linda May Han Oh, and Nate Smith, In Common 2

Irreversible Entanglements, Who Sent You

Shabaka and the Ancestors, We are Sent Here by History

Junius Paul, ISM

Ambrose Akinmusire, On the Tender Spot of Every Calloused Moment

Gregoire Maret, Romain Collin, and Bill Frisell, Americana

Matt Mayhall, Fantatics

Chicago Underground Quartet, Good Days

Quin Kirchner, The Shadows and the Light

Gil Scott-Heron as reimagined by Makaya McCraven, We're New Again

Tom Misch and Yusef Dayes, What Kinda Music
If you'd like to listen to all of these, I made a Spotify playlist for my own use, and you might get some value out of it, too. So there you go, it's linked.
---
Previously in Don't Eat the Meeples